Nastam kadachidupayasi na rahugamyah
spastikaroshi sahasa yugapajjaganti
nambodharodhara niruddha maha prabhavah
suryatishayi mahimasi munindra loke - (17)

O monk them monks your un abounding glow is greater than that of the sun. The sun rises every day but sets as well but the orb of your omniscience is ever shining it never sets . The sun is eclipsed but you are passion or desire eclipses the glory of your virtues . The sun slowly rises over parts of the world but the glow your omniscience reaches every part of the world at once . The sunrays are obstructed by the insignificant clouds but there is nothing that can obstruct the radiance of your knowledge.
Nityodayam dalitamohamahandakaram
gamyan na rahuvadanasya na varidhanam
vibrajate tava mukhabjapanalpakanti
vidyotatayajjagadapurva shashankabimbam - (18)
O Lord your Lotus face is a moon par excellence . The moon shines only at night and that too in a fortnightly cycle , but your face is ever radiant. The moon light penetrates darkness only to a limited extent, your face removes the universal darkness of ignorance and desire. The moon is eclipsed as well as covered by clouds but there is nothing that can veil your face.
Kim sharavarishu shashinanhvi vivasvata va
yushman mukhendu daliteshu tamassu natha
nishpanna shalivana shalini jivaloke
karyam kiyajjaladharira jalabhara namraih - (19)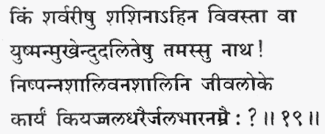 O Lord of universe ! where is the need of the sun during the day and the moon during the night when your ever radiant face sweeps away the darkness of the world. Indeed once the crop is ripe what is the need of the thundering rain clouds.
Gnanam yatha tvayi vibhati kritavakasham
naivam tatha hari haradishu nayakeshu
tejah sfuran manishu yati yatha mahattvam
naivam tu kachashakale kiranakulapi - (20)

O Lord ! the pure incessant and complete knowledge that you have cannot be found in any other deity in the world. Indeed the luster in and light of priceless gems can hardly be seen in the glass pieces glittering in a beam of light .