Simhasane mani mayukha shikha vichitre
vibhrajate tava vapu kanakavadatam
bimbam viyada vilasadansulata vitanam
tungodayadri shirasiva shirasiva sahastrarashmeh - (29)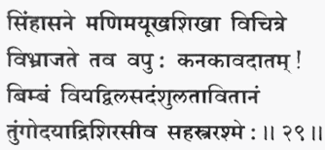 O Tirthankara ! Sitting on a throne with muilticoloured hue of gems , your bright golden body looks resplendent and attractive like the rising sun on the peak of the eastern mountain , radiating golden rays under the canopy of the blue sky.
Kundavadata chala chamara charushobham
vibrajate tava vapuh kaladhautakantam
udyachashanka suschi nirjhara varidhara
muchchaistatam suragireriva shatakaubham - (30)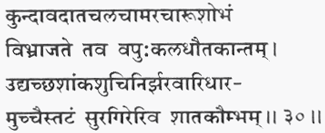 O Tirthankara ! The snow white fans of loose fibres (giant whisks ) swinging on the both sides of your golden body appear like streams of water , pure and glittering as the rising moon , flowing down the sides of the peak of the golden mountain , Sumeru.
Chhatratrayam tava vibhuti shashanka
kantam uchchaih stitham sthagita bhanukarapratapam
muktaphala prakarajala vivradhashobham
prakhyapayat trijagatah parameshvaratvam - (31)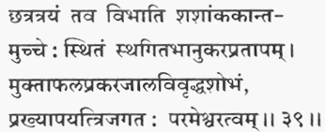 O Tirthankara ! A three tier canopy adorns the space over your head. It has screened the scorching sun rays . Indeed , this three tier canopy symbolizes your paramountey over the three realms.
Unnidra hema nava pankaja punjakanti
paryullasannakha mayukha shikabhiramau
padau padani tava yatra jinendra dhattah
padmani tatra vibhudah parikalpayanti - (32)

O Jina ! Your feet are resplendent like fresh golden Lotuses . Their nails have a comely glow. Wherever you put your feet the gods create divine golden Lotuses.