Udhbhuta bhishana jalodhara bhara bhugnah
shochyam dasha mupagatah chyuta jivitashah
tvat pada pankajarajaomrutadigdhadeha
martya bhavanti makaradhvaja tulya rupa - (41)

O omniscient ! an extremely sick person , disfigured due to advanced dropsy and having lost all hopes of recovery and survival , when rubs the nectar like dust particles taken from your lotus feet , fully recovers and becomes handsome as Adonis.
Apada kanthamurushrunkhala vestitanga
gadham brihannigada koti nigrushtajangah
tvannama mantamanisham manujah smarantah
sadyah svayam vigata bandha bhaya bhavanti - (42)

O liberated soul ! persons put in prison , tied fram head to toe in heavy chains whose thighs have been bruised by rough edges of chain links , get unshackled and freed from bondage by chanting your name
Mattadvipendra mrigaraja dananalhi
samgram varidhi mahodara bandanottham
taysashu nashumupayati bhayam bhiyeva
yastavakam stavamimam matimanadhite - (43)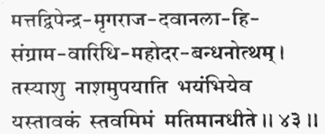 O Jina ! the wise who recites this panegyric with devotion is always free of fears of mad elephants , ferocious lions , fire , poisonous snakes , tempestuous sea , fatal disease and bondage. I n fact , fear itself is afraid of him.
Stotrasrajam tava jinendra gunaihnibadham
bhakya maya ruchira varna vichitra pushpam
dhatte jano ya iha kanthagatamajasram
tam manatungamavasha samupaiti lakshmih - (44)

O Jina ! with devotion I have made up this string ( panegyric ) of your virtues. I have decorated it with charming and multicoloured ( words ) flowers ( sentiments ). The devotee who always wears it in the neck ( memorizes and chants ) attracts the goddess of success ( attracts highest honour , the goal of liberation).