Soaham tathapi tava bhaktivashanmunisha
kartum stavam vigata shaktirapi pravrittah
prityatma viryamavicharya mrugo mrugandrum
nabhyetikim nijashishoh paripalanartham - (5)

O apostle of apostles ! I do not possess the wisdom to narrate your Infinite virtues. Still , inspired by my devotion for you , I intend a compose a hymn in your praise. It is well known that to protect the fawn , even a doe puts her feet down and faces a lion, forgetting its own frailty. (Similarly , devotion is forcing me to face the great task of composing the hymn without assessing my own capacity.)
Alpashrutam shrutavatam parihasadhama
tvadbhakti reva mukhari kurute balanmam
yat kokila kila madhua madhurum virauti
tacharuchuta kalikanikaraika hetuh - (6)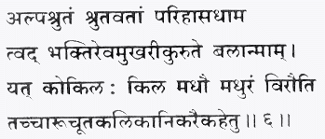 O embodiment of pure wisdom ! I have so little knowledge that I am an object of ridicule for the wise. Still my devotion for you stirs me to sing hymn in your praise , as the mango sprouts impel the cuckoo during the spring time to produce its melodious coo.
Matveti nath ! tava samstvanam mayeda
marabhyate tanudhiyapi tava prabhat
cheto harishyati satam nalinidaleshu
muktaphala dyutimupaiti nanudabinduh - (8)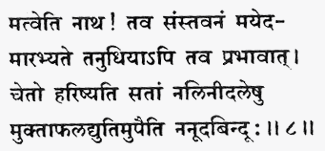 The malignant karmas accumulated by the living beings are instantaneously wiped out by eulogizing you. Just as the piercing sun rays dispel the all enveloping dense darkness, black as a humble bee.
Tvatsanstavane bhavasantati sannibaddam
papam kshanat ksayamupiti sharirabhajam
akranta lokamalinilamasheshumashu
suryamshubhinnamiva sharvar mandhakaram - (7)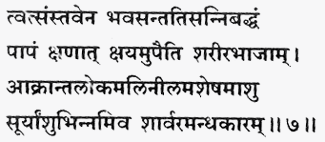 I compose this panegyric with the belief that though composed by an ignorant like me it will certainly please noble people due to your divine influence. Indeed , when on lotus of leaves dew drops gleam like pearls presenting at pleasant site.