Astam tva stavanamasta samasta dosham
tvat samkathapi jagatam duritani hanti
dure sahatrakirana kurute prabhiva
padmakareshu jalajani vikasha bhanji - (9)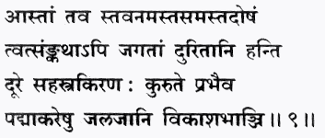 The brilliant sun is far away still at down its soft glow makes the dropping Lotus buds bloom .Similarly , O Jina let alone the immeasurable powers of your eulogize mere utterance of your name with devotion destroys the sins of the mundane beings purifies them.
Natyabhutam bhuvana bhushana ! bhutanatha
bhutairgunairbhuvi bhavantamabhistuvantha
tulya bhavanti bhavato nanu tena kim va
bhutyashritam ya iha natmasamam karoti - (10)

O Lord of the living ! O eminence of the world ! It is not surprising that he who is the engrossed in praise of your infinite virtues (assimilating the virtual in his conduct) attains your exalted position. It should not be surprising if a benevolent master makes his subjects is equals. In fact what is the use of servicing such a master who does not allow his dependents to prosper to an exalted position like his?
Dristva bhavanthamanimesha vilokaniyum
nanyatra toshamupayati janasya chakshuh
pitva payah shashikara dyuti dugda sindhuh
ksharam jalam jalanidherachitumka ichchhet ? - (11)

O Jina ! your divine magnificence is spell-binding. After looking at your divine form nothing else pleases the eye . Obviously who would like to taste the saline sea water as the drinking fresh water of divine milk-ocean ,pure in soothing like moonlight ?
Yaih shantaragaruchibhih paramanubhistam
nirmapitstribhuvanailka lalmabhuta
tavanta eva khalu tepyanavh prithivam
yatte samanamapuram na hi rupamasti - (12)
O crown of three realms ! It appears as if the quiescence and harmony imparting ultimate particles become extinct after constituting your body , because I do not witness such out of the world magnificence other then yours.